Support for Spring Grants Cycle
Our Spring Grant Cycle is the way we create a positive and measurable impact on our community. Parishes and local Catholic organizations apply for grants in four areas: Parish Outreach, Parish Stewardship, Pastoral Ministry, and Liturgical Music. Our dedicated staff carefully reviews each application and the Grants Committee of our board makes final decisions about awards.
Why Donate to our Grant Cycle?
We are extending an invitation to individuals and private foundations to make a matching donation to our Spring Grant Cycle. Some of the benefits of a matching donation include:
Helping the Foundation increase its reach
Having the Foundation handle the research and vetting process for you
Making an impact in our local community in an area that inspires you
Supporting and recognizing effective ministry that is changing our community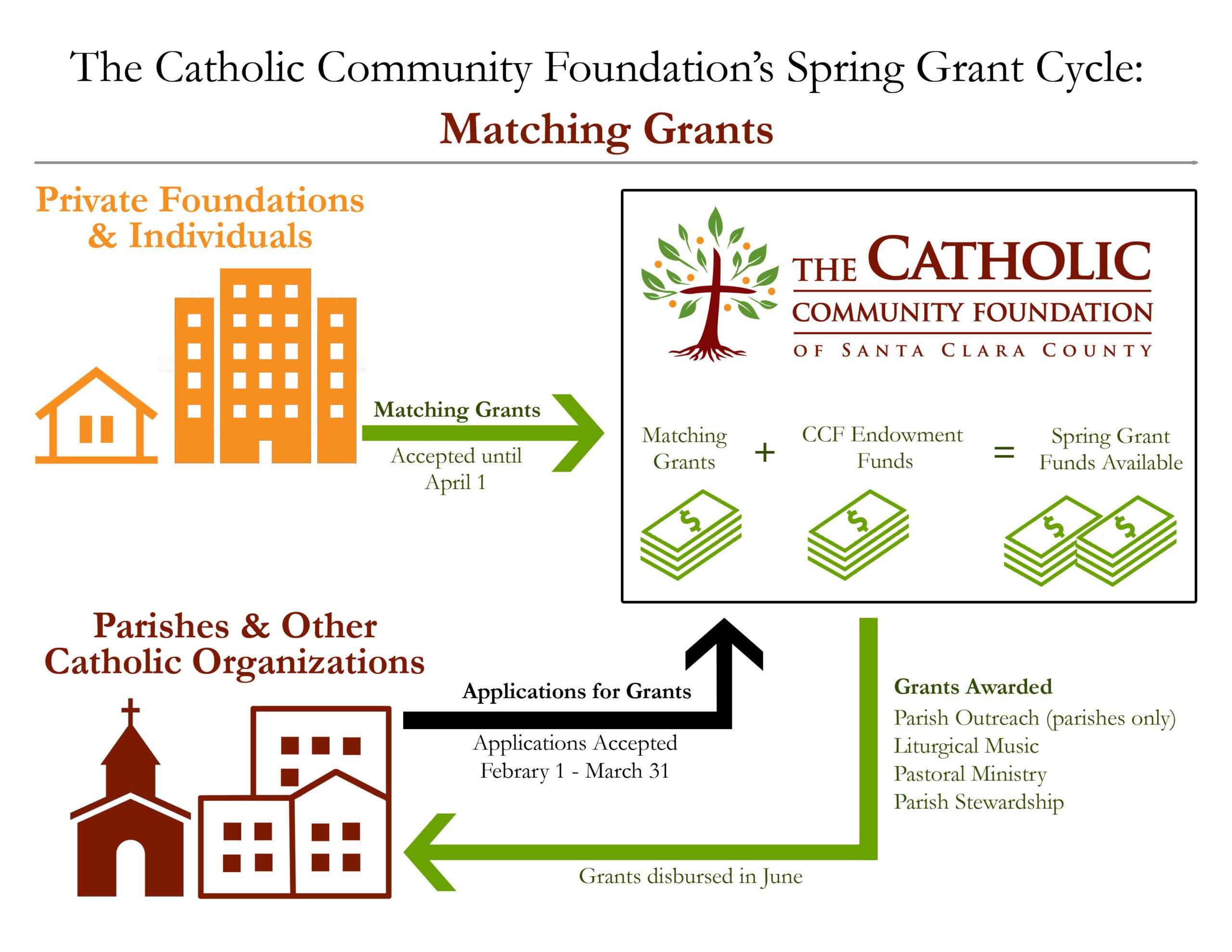 How it Works
Select your area of interest. You can choose to donate to one of our four grant categories or give an unspecified gift and the Foundation will use the funds in whichever category we see fit.
Choose the amount you would like to give and if/how you would like to be recognized. Anonymity is always an option.
We manage the application and grantmaking process, and we will let you know how your funds were applied.
PLEASE NOTE: We can only accept funds for this year's Spring Grant Process until April 1st.
Please join us in strengthening our community programs!
Contact the Grants Program Manager via email at galetto@cfoscc.org or via phone at 408.995.5219 x21 if you have any questions or to make a donation.
Checks should be made payable to The Catholic Community Foundation of Santa Clara County. Please send us a note with your check which includes the following information:
Your name(s)
Your email address
Your mailing address
Whether or not you would like your contribution to be anonymous
Indicate which of the following categories you would like to contribute to:

Apolonia Andre Fund for Liturgical Music
Parish Outreach
Parish Stewardship
Pastoral Ministry
Whichever category the Foundation sees fit
More Information
Spring Grant Categories
Apolonia Andre Fund for Liturgical Music
This fund supports the development of parish liturgical music programs, aimed at enriching parish worship life and strengthening our communities around the Eucharistic celebration.
Parish Outreach 
This fund allows us to support our parish social ministries, increasing their outreach and effectiveness.
Parish Stewardship 
This fund grants in support of parish efforts to increase stewardship.
Pastoral Ministry Training and Formation
This fund grants in support of faith formation programs.
Grant History
Our grants average $4,000 and range between $250 and $10,000.
Grant Results 2016
In 2016 we received 93 applications totaling $598,000 and granted $242,400 to 73 programs.
Fund
Eligibility
Total Amount
Apolonia Andre Fund for
Liturgical Music
Parishes only
$3,800
Parish Outreach
Parishes only
$84,850
Parish Stewardship
Parishes and Diocesan Stewardship
$61,500
Pastoral Ministry Training
Catholic organizations in the area
$82,250
Dates & Deadlines
Applications for grants are accepted February 1 through March 31. Deliberations happen in April/May and grants are disbursed in June.
The deadline for matching donations is April 1 so that we can take the matching funds into consideration during Grant Committee deliberations.