Parish Endowment Match
Congratulations to all the parishes who reached and exceeded the $20,000 goal! The time and generosity that was poured into this effort was truly inspiring! 
The $1 Million Parish Endowment Match ran from September 2016 to September 2017. Please see the image below for some amazing results and statistics.
Your Parish's Endowment still needs to grow! The match was meant to be a jumping off point for growing endowments in our community. Current and planned gifts are always welcome. Scroll down to donate to your parish's endowment today or contact us to discuss complex or legacy gifts.
$1 Million Parish Endowment Match Results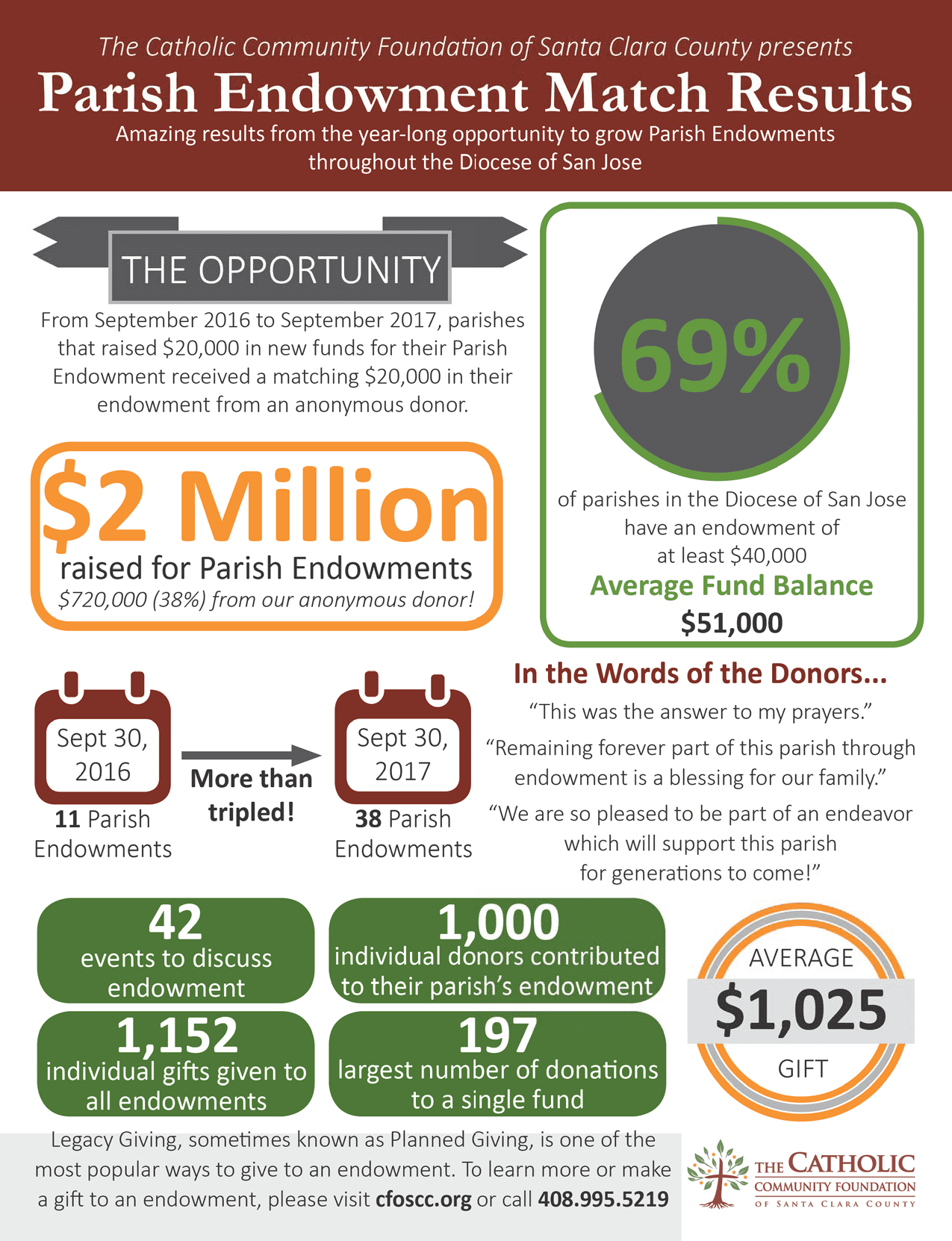 Why an Endowment?
An endowment is a permanent fund invested to produce income for a specific purpose (in this case, a specific parish). The principal of the fund remains untouched; only the income it generates is used. Since endowments are maintained forever, a gift to an endowment is truly a gift that continues forever. Through the endowment, you are providing for future generations. Imagine knowing that because of your decision today, your parish will receive a grant every year, even more than 100 years from now!
Endowment Quick Facts
Any individual (a priest, staff member, parishioner) can start a Parish or School Endowment with a donation of $1,000
The beneficiary (the parish or school) will receive an annual disbursement from its endowment once the balance reaches $25,000. Grants are made annually in Q4 as a result of 3-5% of the quarterly rolling average
The Catholic Community Foundation manages the Endowment funds. The individual parish or school does not own the fund
Grants from the endowment are treated like unrestricted donations to the parish. It is up to parish leadership to decide how to spend the money they receive from the endowment
Only the earnings of the fund are used for granting. The principal of the fund is never touched, even in a dire emergency
Parishes with an Endowment at the Foundation